Astaxanthin Product Buyer's Guide (updated September 2023)
Nutricost Astaxanthin Review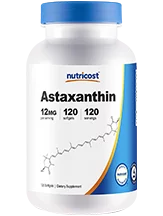 In this review we take a look at Nutricost Astaxanthin. This product caught our eye because the amount of Astaxanthin in the formula is at the optimal dose of 12 mg per serving. In addition, the Astaxanthin used is derived from the superior source Haematococcus pluvialis, which has 8000 times the amount of Astaxanthin as that found in salmon. Once we got over our excitement at the ideal dosage offered, and looked a bit more carefully at this product, we were disappointed to see that there was nothing more to this product than just the Astaxanthin. There are no other ingredients included in this product besides for it being served in a softgel capsule that has gelatin, so it is not even vegan-friendly. We hoped the product would at least contain Zinc, as it is known for its antioxidant properties that help fight free radicals, but unfortunately it was not added. We were disappointed to see that this product is also missing Vitamin E which is an essential partner to Astaxanthin as the two together create a synergistic partnership.
Seeing as Astaxanthin is a fat-soluble product, it is not easily absorbed by the body, therefore we expect to find some sort of absorbing facilitator (such as BioPerine®) to ensure the body gets the maximum benefit from the Astaxanthin. Unfortunately with this product, we didn't find any such addition.
Is Nutricost Astaxanthin Effective?
We found many reviews online regarding this product, which gives us a fair indication as to how effective it is. We did find many positive reviews claiming that it does what it says it will do. We also found a number of negative reviews stating that it doesn't work at all. The mixed reviews left us slightly confused. We believe that 12 mg of Astaxanthin should be the most effective dose, however without certain ingredients to back it up, it loses potential efficacy. The manufacturer's directions on this product instruct the consumer to take one of these capsules together with a fat-containing meal because Astaxanthin is fat-soluble and absorbs better when taken with a source of fat. Usually, we would look for an ingredient in the formula that would adopt this role. Here, however, the manufacturer is relying on the customer consuming fat together with the capsule each time they take their supplement. This is unfair and lazy of the manufacturer when a simple additional ingredient would do the trick. We believe an absorbing facilitator such as BioPerine® would be the ideal addition. 
We were pleased however, to find a money-back guarantee. We had to do a bit of digging to find it as it was on the manufacturer's website only and it is exclusively for products purchased directly from the manufacturer's website. We did not find any mention of a guarantee for products purchased from Amazon. So while we like that the manufacturer stands by his product with a money-back guarantee, we're not sure why it is exclusive for their website only. 
Is Nutricost Astaxanthin Safe?
There are no mentioned side effects with taking this product. As with any new supplement or diet introduced into your daily life, we always advise talking to your healthcare professional about possible contraindications of any pre-existing medical conditions or medications that you are taking. Supplements work differently for everyone and the effects vary between individuals so it is always a good idea to run any health changes with a professional.
Summary
At first it seems that Nutricost Astaxanthin has exactly what we are looking for in an Astaxanthin supplement. There is an optimal dosage of Astaxanthin which is 12 mg, derived from the superior source Haematococcus pluvialis for better absorption and higher concentration, however when taking a closer look, we found that it was missing some vital ingredients. For this reason we placed this product third.
It seems fine that the manufacturer has taken the ideal dose of 12 mg of Astaxanthin, put it in a softgel capsule and handed it over to the consumer, but what about the added ingredients that help boost the properties that Astaxanthin has to offer? Firstly, we found no ingredient to help the Astaxanthin absorb efficiently into the body, such as BioPerine®. Secondly, there's no Vitamin E included to help boost the antioxidant effects Astaxanthin has on free radicals, and thirdly, there's no Zinc to give an added push for added antioxidant benefits. Without these added ingredients, the product is sub-par and is only half as effective as it could be.
We were however impressed with the positive reviews that we found online, and feel that it has potential based on what we read. We also liked that we managed to find some mention of a guarantee, even if we had to search for it on the manufacturer's website. We do prefer a product such as Approved Science Astaxanthin that has complete transparency with their reviews as well as their money-back guarantee.
What You'll Discover:
✓
Which Astaxanthin supplement is the BEST BUY and comes with a great GUARANTEE!
✓
Which formula and ingredients are the most EFFECTIVE and work the fastest?
✓
How NOT to get ripped off! BE AWARE of poor quality and cheap products.
Top 6 Items to Consider:
Ingredients
Cost Per Serving
Product's Testing Results
Company's Reputation
Consumer Reviews
Return Policy & Satisfaction Guarantee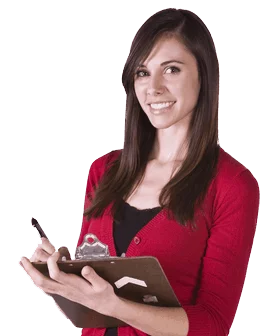 Sign Up For Our Newsletter!
We will send, straight to your inbox, the latest and most relevant information regarding Astaxanthin to keep you updated and informed.
Our promise: We will never share your contact details, unless you give us permission. And, we will only ever send you information that is helpful and significant.