Astaxanthin Product Buyer's Guide (updated September 2023)
NOW Extra Strength Astaxanthin Review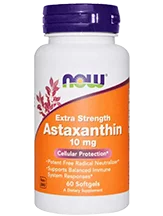 This review takes a look at the Extra Strength Astaxanthin produced by the NOW brand. This is a well-known brand of supplements that has a reputable name in the industry. This particular product intrigued us as it is NOW's second Astaxanthin product that has become available. Their first is just a 4 mg dose supplement, while this one boasts 10 mg per serving. Their aim, it appears, was to improve their formula by offering their consumers a more potent dose. We are always appreciative of brands that are looking to reinvent themselves and improve their products. Seeing as this is the "new and improved" version, we were interested to see whether this formula delivers.

According to our research, the optimal dose of Astaxanthin is 12 mg. This formula is just 2 mg short of that. We're not sure why they decided on just 10 mg, if they were already looking to improve their quantity, then why not go for the optimal amount?
The main ingredient list on this product is extremely short, mentioning just the 10 mg of Astaxanthin, therefore it appears that there are a number of critical ingredients missing. While we did appreciate that the Astaxanthin used is sourced from the superior microalgae Haematococcus pluvialis, we didn't see any addition of Zinc or BioPerine®. After looking closely, we did find listed in the "other ingredients" olive oil and Vitamin E. The olive oil is significant because Astaxanthin is fat-soluble, which means it may take longer  to be absorbed by the body (which is why we usually look out for BioPerine®), but seeing as the olive oil is fat-based, this helps absorb the Astaxanthin more effectively than without anything at all. 
We were pleasantly surprised to see the addition of Vitamin E listed in "other ingredients" as it works synergistically with Astaxanthin, enhancing its antioxidant properties. However, there is no mention of how much Vitamin E is actually included in the formula and since it is listed as an inactive ingredient, we're not sure how valuable it is here. This seems like a bit of a missed opportunity to us. We feel that the manufacturer could have made a bit more of an effort and make it a more prominent feature considering how relevant this ingredient is together with Astaxanthin.
We were happy to see that this product is manufactured in the USA and has a GMP certification which indicates a high-quality and safe product. But it's ultimately the formula that gets you the results, so does this product have what it takes?
Is NOW Extra Strength Astaxanthin Effective?
When determining whether a product is effective or not, there are two main points we look out for: consumer reviews and a manufacturer's money-back satisfaction guarantee. In this case, NOW Extra Strength Astaxanthin got one out of two. With regards to consumer reviews, we found plenty of positive reviews that affirm the efficacy of this product. While there are some reviews with complaints, either that the product doesn't work, or in one case that the product arrived damaged, this is to be expected. Not every product will work for every person. We felt there were enough positive reviews for us to feel confident that this is a product that can potentially work.
We were disappointed however, to see that there is no guarantee offered. We feel this is an extra step for the manufacturer to take that instills a confidence in the consumer that a product actually works. Nothing is more convincing than a manufacturer standing by its product, risking monetary loss if the customer is not satisfied.
Is NOW Extra Strength Astaxanthin Safe?
In general, this product is marketed as natural and safe. There are no mentioned side effects. That said, it is always recommended to speak to your doctor before taking any new supplement, especially if you are pregnant, nursing, have any health conditions or are taking other medications.
Summary
We like that this brand wants to improve their products and raise the quality of their ingredients, we just feel there were a few points that were sorely missed on this upgrade. According to our research, the optimal amount of Astaxanthin is 12 mg, so in this case they are just 2 mg short. While we do appreciate that the Astaxanthin is served together with olive oil for better absorption as well as Vitamin E to help enhance the antioxidant properties from the Astaxanthin, we would have liked to see more detailed information and an exact quantity of how much Vitamin E is in the formula.
Another upgrade that was missed here is that it is not vegan-friendly as it is served in a softgel animal-based gelatin capsule. This too, was a missed opportunity for a better quality product that could have been available to a much wider population. While this product is manufactured in a cGMP facility, and has a solid number of positive reviews, we would have liked to see a money-back satisfaction guarantee. In our opinion, this would have given it the edge, making it a much more attractive option. This manufacturer has a solid base for a good-quality product, however despite improving on their original Astaxanthin formula, we feel there is still room to grow.
What You'll Discover:
✓
Which Astaxanthin supplement is the BEST BUY and comes with a great GUARANTEE!
✓
Which formula and ingredients are the most EFFECTIVE and work the fastest?
✓
How NOT to get ripped off! BE AWARE of poor quality and cheap products.
Top 6 Items to Consider:
Ingredients
Cost Per Serving
Product's Testing Results
Company's Reputation
Consumer Reviews
Return Policy & Satisfaction Guarantee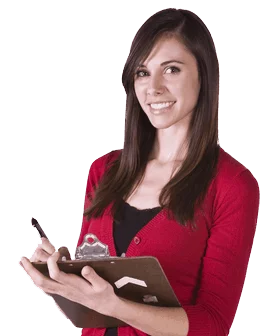 Sign Up For Our Newsletter!
We will send, straight to your inbox, the latest and most relevant information regarding Astaxanthin to keep you updated and informed.
Our promise: We will never share your contact details, unless you give us permission. And, we will only ever send you information that is helpful and significant.